By Lori Janeson
Hecla Island is one of Manitoba's best-kept secrets. Hecla Grindstone Provincial Park, the vast wilderness preserve that encompasses the entire island, is arguably among the 10 best provincial parks in all of Canada. And the whole shebang is less than two hours' drive from Winnipeg in good weather.
You could spend a week on Hecla Island and adjacent sections of the mainland and still not see everything that this northwoods paradise has to offer. In the interest of your schedule, what follows is an abbreviated list of things to do and see on Hecla. Plan right and you can hit most or all in the course of a long weekend.
1. Hecla Village (Self-Guided or Guided Tour)
Hecla Village is an early-20th century Icelandic fishing village that's been restored to relatively good health through the tireless efforts of Hecla Grindstone Provincial Park staff.
The site now features "six stabilized buildings — a church, school, community hall, a period home, fish station and the partially completed boarding house," according to the park's website. Several others are "stabilized," meaning they're not in danger of collapse, but not suitable for tourists to enter either.
"You can take a leisurely self-guided walk around the village. Some buildings are open to the public, though it's imperative that you heed any posted warnings and observe closing times."—Lori Janeson
For more information, consider a guided tour. Check the website for current tour times.
2. Hecla Village Scenic Drive
This leisurely forest drive includes more than just Hecla Village. It passes through several kilometers of beautiful wilderness, hitting a variety of ecosystems along the way.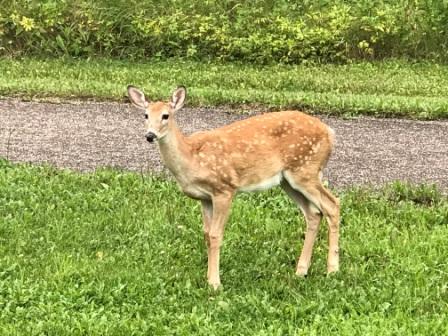 You'll wind up in the village, but be sure to take your time and have your camera handy for unexpected sights (bald eagles, big game) along the way.
3. Grassy Narrows Marsh Hike
Speaking of big game: Grassy Narrows Marsh, one of the most popular hikes in Hecla Grindstone Provincial Park, is probably the best place on the island to spot elusive moose.
"Viewing towers and blinds have been strategically situated for close observation of wildlife, including waterfowl, pelicans, hawks, terns, rare western grebes and Hecla's largest mammal, the moose," says the park's website.
4. West Quarry Trail
Eager for a more vigorous walk? Try the West Quarry Trail, a 10-kilometer excursion that visits a disused limestone quarry and abandoned fish camp. The level of preservation is nowhere near what you'll find at Hecla Village, but it's definitely worth a stop to catch a glimpse of New Iceland's nearly forgotten way of life.
5. Lighthouse Trail (Gull Harbour)
Like lighthouses? Then the Lighthouse Trail, near Gull Harbour at the very northeastern tip of Hecla Island, is an absolute must.
6. Golf at Lakeview Hecla Resort
Hecla Island isn't all rustic, all the time. Lakeview Hecla Resort, the most upscale property on the island, has an 18-hole championship golf course that challenges even the most confident swingers. The course obviously isn't open during the winter, but it tends to get going soon after the snow melts and the ground dries. In June, when afternoons seem to stretch on forever, there's plenty of time for uncrowded tees.
7. Swimming at Gull Harbour and Sunset Beaches
Yes, you can swim in Lake Winnipeg. No, you probably don't want to try it in early June, when you might run into the stray ice chunk left over from the spring breakup.
If you visit in August or early September, and the air temperature is sufficiently warm, hit Gull Harbour or Sunset beaches for a quick dip. After a long day of hiking, biking, or kayaking around the island, there's nothing better.
8. Fishing at Gull Harbour
Shore fishing is a popular pastime on Hecla Island — you don't have to have a boat to catch the abundant bass, pike, or perch here. Be sure to refer to local authorities' catch and size limits, and fish only in designated areas. One of the best is Gull Harbour, where it's easy to dip your line into placid waters without running into any competitors.
9. Kayaking the Narrows
Kayak the narrows between Hecla Island and the mainland and you'll see Hecla Island like never before. If you've never paddled solo before, it's easy — you'll get the hang of it, or just ask your outfitter for a quick tutorial. Remember a waterproof bag to carry your phone and/or camera, as terrestrial critters frequently make appearances at the water's edge and birds of prey routinely ply the skies above.
10. Dining at the Lighthouse Inn
Nothing works up an appetite like a hard day's hike, bike, or kayak. (Or all three.) When you're ready to chow down, head over to newly refurbished Gull Harbour Marina, whose Lighthouse Inn boasts a full-service restaurant with a menu designed around the lake's bounty. Unwind afterward with a cold one or cocktail at the Lil' Viking Bar, then retire to one of the resort's dozen-plus rooms and sleep soundly in the cool night air.
11. Roughing It at Gull Harbour Campground
More cool night air, you ask? There's plenty of it to be had at Gull Harbour Campground, a well-equipped lodging facility with more than 200 spots. It's actually not quite accurate to say that a stay at Gull Harbour Campground is "roughing it" — only in comparison to Lakeview Hecla Resort, perhaps. It's certainly a sight cheaper.
12. Indulging at Salka Spa
If you can't resist the allure of Lakeview Hecla Resort, book a day of indulgence at Salka Spa. It's the most luxurious experience available between here and Winnipeg. Anyway, you deserve it.
Hecla Island Is Closer Than You Think
Hecla Island is much closer than you think. Not just to Winnipeg — which, again, is just two hours away in good weather.
Thanks to Winnipeg's strategically located international airport, Hecla Island is within a day's reach of most major cities in North America. Whether you're looking to escape a muggy Texas summer, add some greenery to your parched desert life, or simply sleep under a sky that isn't marred by urban light pollution, Hecla Island is worth a spot on your list of go-to vacation destinations.
Lori Janeson and her husband David own the Gull Harbour Marina on Hecla Island